Meet William Adame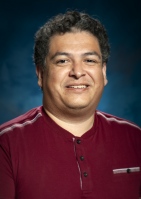 William Adame
Metadata and Catalog Librarian
Saginaw Valley State University

What are you currently reading?
Mostly graphic novels and comics these days. I'm making my way through the X-Men comic books in chronological order. I also started my biennial reading of Philip Pullman's His Dark Materials trilogy.

What are your research interests?
I'm interested in underserved student populations. Specifically, first generation college students and reducing the barriers to library services but also in supporting their persistence in completing their academic programs. Also, I'm interested in media literacy and information literacy for students and effective methods for teaching and practicing those skills.

Do you have hobbies or interests outside of the library?
I'm a consummate consumer of media. I mostly play video games (Final Fantasy XIV, Persona 5), watch movies (Everything Everywhere All at Once, Dancer in the Dark), listen to music (Björk, Antony and the Johnsons), and watch TV (Heartstopper, Star Trek: Voyager).

What drew you to the library profession?
Back in high school the readers' advisory seemed like the coolest part, "I could help people figure out what books they want to read?!" I was interested in working at least part time in a library way back then. Unfortunately, it wasn't to be, at least at that point. I figured I'd become a high school English teacher while working at the university library. Maybe it's because I was in California, or because of the aughts economy, or because of my limited experience and understanding of libraries growing up, but I never did get a library job until my early 30s. After pivoting away from teaching, I started taking community college courses in Library Services and was immediately captivated by cataloging and classification. Three years after starting those I entered an MLIS program and was almost simultaneously hired by a public library as a cataloger. The access and discovery that cataloging and classification enables is so satisfying.

What do you value about MiALA?
Being new to Michigan and academic libraries, I appreciate that there can be an immediate connection to the hundreds of library professionals that are familiar with the needs and challenges in serving our user communities.