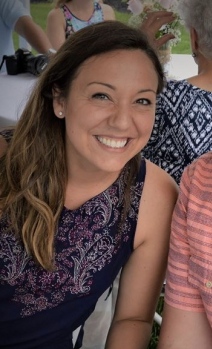 Jessica Shuck
eResources Librarian
Cornerstone University
What are you currently reading?
I usually have a few books going. I have a decent commute so I love audiobooks! I am finishing up The Good Neighbor (read by Mr. Reading Rainbow himself, Lavar Burton- which has brought about a lot of nostalgia!). I just started Maid by Stephanie Land, which has been really impactful. I'm also reading Escape Rooms and other Immersive Experiences in the Library and Green Revolution, as well as various picture books.

What are your research interests?
My research interests include information literacy, library instruction assessment, library outreach, and recently on a more personal level, sustainability.

Do you have hobbies or interests outside of the library?
My husband and I have two young kids (ages 5 and 3) and two dogs who keep us very busy! Aside from reading and spending time with my family, I love doing anything outside- walking, hiking, kayaking and swimming, really anything in nature or by water. I love to dig in the dirt and attempt to garden but I'm mostly just good at perennials.

What drew you to the library profession?
I genuinely love serving other people- connecting someone with what they want or need is exciting to me. It's funny because while I was in high school and college and I had never even considered it a career path. I started volunteering in a school library my junior year of college just for some experience. The school librarian told me about a page position at the public library. Once I started working part-time at GRPL I was hooked and I realized that it could be a great option for me.

What do you value about MiALA?
MiALA is an amazing organization! I love being part of a group of people who are so smart and friendly and helpful. It's been great making connections with so many of you and realizing that we can all help and grow with each other. I'm so thankful for the many opportunities MiALA offers in terms of leadership experience, learning, and collaboration.