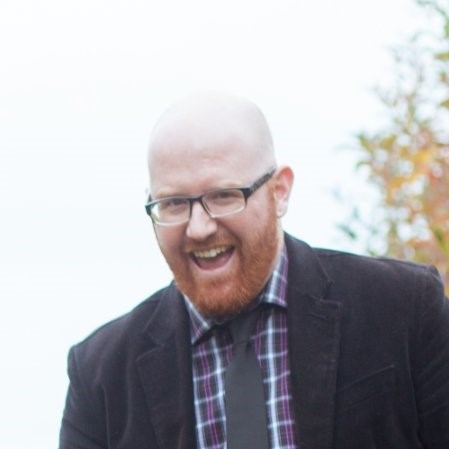 Jeff Lash
Web and Theological Services Specialist
Cornerstone University
I am a Hoosier at heart but currently reside in the beautiful city of Grand Rapids. I have a B.A. in Christian Studies from Union University and an M.A. in New Testament from Grand Rapids Theological Seminary. I am a lifelong learner as evidenced by the fact that I can't stop going back to school. Case in point, I am currently half-way through my MLIS program at Valdosta State University. I am married to my favorite musician and we have two fun-loving, high-energy, pre-K boys. As a result of having young boys, I am well versed in the arts of wrestling, animal role-playing, lego building, and all things Wild Kratts.

I have a variety of interests and hobbies which do not get much of my time in this season of life. I love playing and watching sports. I am a big fan of Notre Dame football, Indiana Hoosier basketball, and Swansea City soccer in the UK. I like to play basketball, tennis, golf, and disc golf. I am a board gamer and would like nothing more than to brew a cup of coffee and break out a game of Ticket to Ride. I am an aspiring woodworker and enjoying making things with my hands. Like most librarians, I am an avid reader and generally have several books going at once. I am currently reading You Are What You Love by James K.A. Smith, The Scandal of the Evangelical Mind by Mark Noll, White Awake by Daniel Hill, and After You Believe by N.T. Wright among others.

I have been serving at Cornerstone for just over two years and I have enjoyed every minute of it. Prior to Cornerstone, I spent the majority of my vocational time in pastoral ministry. Why become a librarian then? Easy answer...the books, of course! Isn't that why we are all here? Honestly though, I was drawn to the library profession because I am passionate about education and helping people discover new and existing avenues for personal and communal growth. A library is a center for knowledge and learning which makes it the ideal work environment for someone like me. It has also afforded me the opportunity to pursue some of my research interests. Those interests include a range of topics such as historical interpretations of Paul's letters in the Christian Scriptures, education and learning in the early and modern church, theological aesthetics, aesthetics and design in the library, and teaching and learning in the library.

This opportunity at Cornerstone has awakened me to a whole vocational world that I knew little about. Luckily, I have been surrounded by an amazing team of people at Cornerstone who have been willing to guide me and to give me space to learn throughout this journey. I consider myself blessed to be a part of a library team and culture that encourages creativity, collaboration, service, teamwork, and joy in all that we do. I am also thankful for MiALA because it has contributed to the acceleration of my learning curve, provided many opportunities for involvement in the profession more broadly, and introduced me to lots of great people.